One of the most difficult parts of any diet is maintaining it when you're away from home: you're away from your kitchen, your cooking equipment, and your normal routines. In today's workforce, however, travel is an all-too-common occurrence, and having to travel shouldn't be the reason to go off the diet.
The key to fighting this is preparation; below we've included some tips and tricks to keep you on track with your nutrition goals while you're out of your comfort zone.
Macros
Planning what your meals need to consist of is the first step. A typical keto diet consists of 60 to 75 percent fat, 15 to 30 percent protein, and 5 to 10 percent carbohydrates of your daily calories. To get your specific requirements, use a keto macro calculator to calculate your body's needs.
Subscribe for a FREE copy of our
4-Week Keto Meal Plan
4 Weeks of Delicious Keto Recipes!
Leftovers and Bulk Preps Included
Maximize Your Keto Diet's Success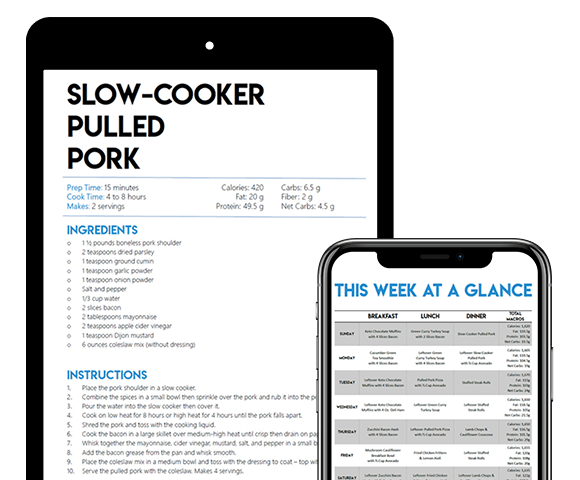 Travel Evaluation
The next thing you need to do is evaluate your trip length. A simple overnight stay is easy to prepare for: frozen meals, a cooler, and access to a microwave are all you need to be able to replicate your diet as if you were at home. A week-long stay can drastically increase the complications of staying on the diet. Knowing what you're up against is key.
Once you've determined your trip length and location, look at what kind of resources you'll have at your travel destination.
We highly recommend Airbnb's because they'll usually include a kitchen. If you're staying in a hotel, consider getting a room at an extended-stay hotel. These often have more extensive cooking equipment than regular hotels and can increase the flexibility of your meal prep options. At the very least, a full-size refrigerator and freezer can help tremendously. Staying with family or friends may be another good option, giving you access to a complete, well-stocked kitchen. Don't forget to check out your job location; you may have additional cooking and meal prep options here.
Finally, what mode of travel you'll use will provide a major impact. If you're driving in your car your flexibility will be a great deal higher than if you are traveling by plane, where TSA restrictions2 may preclude you from bringing many prepared-meal options. Popular keto items, like peanut butter, for example, need to be repackaged into separate containers and weigh less than three ounces.
Food Options
Non-refrigerated foods
Think about ways that you can change your food delivery; for example, if eggs are a big part of your diet, consider hard-boiling a number of them. These are easy to store, flexible, and can keep you on track. Beef jerky or canned salmon, tuna, and chicken are your friends here. Canned olives and protein shakes are other options.
Snack foods (such as dried nuts, string cheese, and pepperoni slices) are great options to consider; not only can these satisfy instant cravings in small amounts, these can easily be turned into a complete and robust meal option.
Fresh produce (keep your macros in mind!) such as avocados are a great option that can be purchased at your location and will store well in an unrefrigerated environment as long as you don't cut into or prepare them beforehand.
Refrigerated foods
Most places you would stay in will offer some refrigerated options. Purchasing cold cuts and block cheese will help satisfy your meat and fat options. Think about making egg salad, tuna salad, or chicken salad; these can even be prepared in a hotel room if you plan ahead (e.g., bringing boiled eggs, canned meat, and storage containers from home, then mixing the salad at your destination).
If this trip will be a multi-day stay, consider prepping a number of meals and freezing them, then transferring the next day's meals from the freezer to the refrigerator every morning.
Fresh meat options, such as a rotisserie chicken or chicken wings from a deli, are other things to consider; these items are prepared for you and can add a significant level of variety to your prepared items. Hummus and cheese are other great ideas.
Restaurants
Many restaurants (fast food, too) have low carb mains and sides. If you're craving a burger, ask to have it lettuce-wrapped or to leave out the bun. Steak, fish and other meats are generally low carb. For sides, avoid things like fries, rice and beans by replacing them with common items like salads, asparagus and roasted veggies. And make sure to go to Chipotle! Get the bowl, no rice or beans, and fill up on as much meat, cheese, guacamole and sour cream as you'd like! You'll be surprised just how many keto options are available out there.
You've Got This!
Traveling can either be a reason to quit your diet, or an exciting opportunity to discover new foods and ways to prepare them. Remember that any problem can be overcome with the right amount of preparation, and successfully staying on the keto diet while traveling is no exception. Carpe diem!
NUTRITIONAL DISCLAIMER
The content on this website should not be taken as medical advice and you should ALWAYS consult with your doctor before starting any diet or exercise program. We provide nutritional data for our recipes as a courtesy to our readers. We use Total Keto Diet app software to calculate the nutrition and we remove fiber and sugar alcohols, like erythritol, from the total carbohydrate count to get to the net carb count, as they do not affect your blood glucose levels. You should independently calculate nutritional information on your own and not rely on our data. The website or content herein is not intended to cure, prevent, diagnose or treat any disease. This website shall not be liable for adverse reactions or any other outcome resulting from the use of recipes or recommendations on the Website or actions you take as a result. Any action you take is strictly at your own risk.
Latest posts by Joshua Burnett
(see all)
Check Out More Articles: