Crispy Low Carb Zucchini Chips
Looking for a quick snack? But maybe you're also looking for a healthy snack? And of course, you want that snack to be keto-friendly. Well, look no further because what you need is zucchini chips. That's right- chips made out of zucchini. Intriguing, right?! Making chips out of low carb veggies is probably our new favorite thing to do and it has completely changed our snack time. If you are ready to enjoy a tasty, nutritious snack as well, then go preheat your oven and keep reading.
Let's take a quick look at zucchini itself. Zucchini is a squash and is actually in the same family as cucumbers, melons, and other squashes. Most zucchini are around 8 inches long but the biggest zucchini ever recorded was 3.2 feet- that would make a whole lot of chips! Zucchini is very high in vitamin A which has been shown to help support your vision as well as boost your immune system. Vitamin C is also a major component of zucchini and becomes more readily available when you cook the veggie (which is good because these chips are cooked!). Overall, zucchini seems like a pretty healthy, low carb ingredient to us!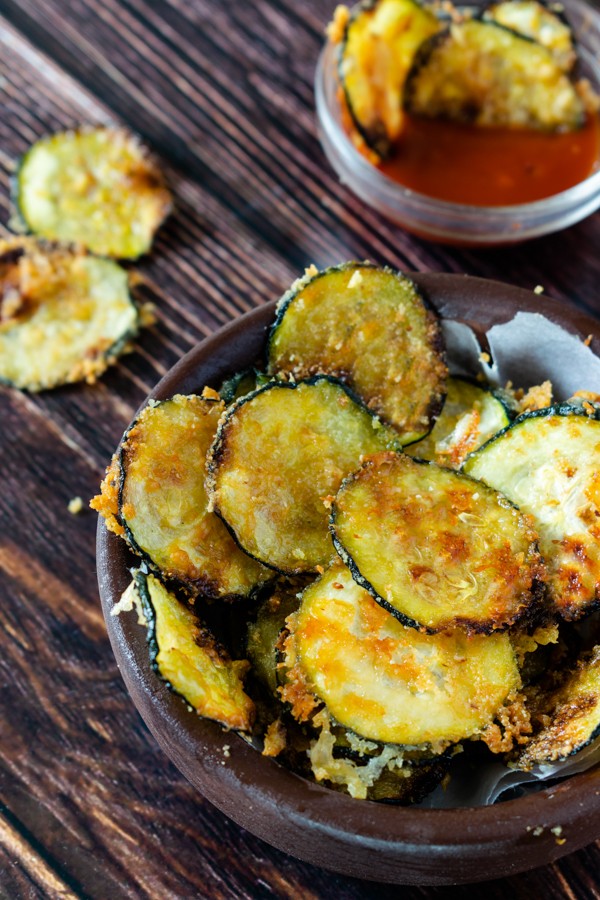 Subscribe for a FREE copy of our
4-Week Keto Meal Plan
4 Weeks of Delicious Keto Recipes!
Leftovers and Bulk Preps Included
Maximize Your Keto Diet's Success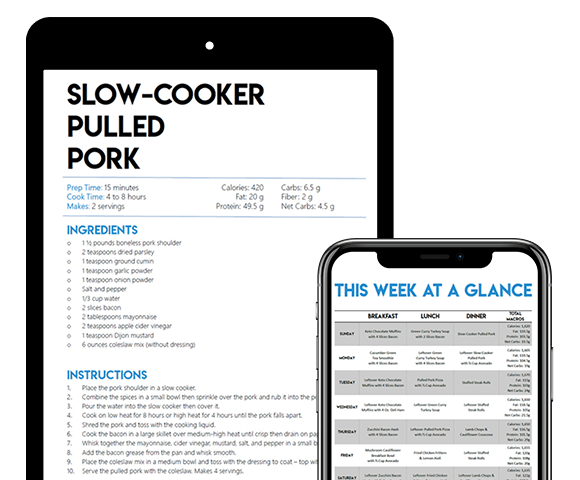 Once you have your beautiful zucchinis picked out, the first step to making the chips is to slice them really thin. We are talking super thin, as thin as possible, about 1/16 to 1/8 of an inch thick. If you have a nice sharp knife and some serious knife skills, you can easily do this by hand. However, we love using a mandolin slicer to help get the chips perfectly cut. A mandolin is very easy to use and it quickly cuts the zucchini into uniform, skinny slices. When all the chips are exactly the same size, they will bake more evenly and also just look more perfect. If you do not have a mandolin slicer, I strongly suggest investing in one. You can use it to slice so many things and I know you will find yourself pulling it out of your cupboard all the time!
Once the zucchini has been sliced, it is patted to dry, getting rid of any excess water from the veggie. Removing the water helps make the chips crisper and less soggy so don't skip this step! After drying, the zucchini slices are tossed with olive oil, salt and some parmesan cheese (yum! We love cheese!) and placed on a sheet tray to bake. Make sure they are in a single layer on the tray and use two trays if needed as this will also help the chips get evenly crispy.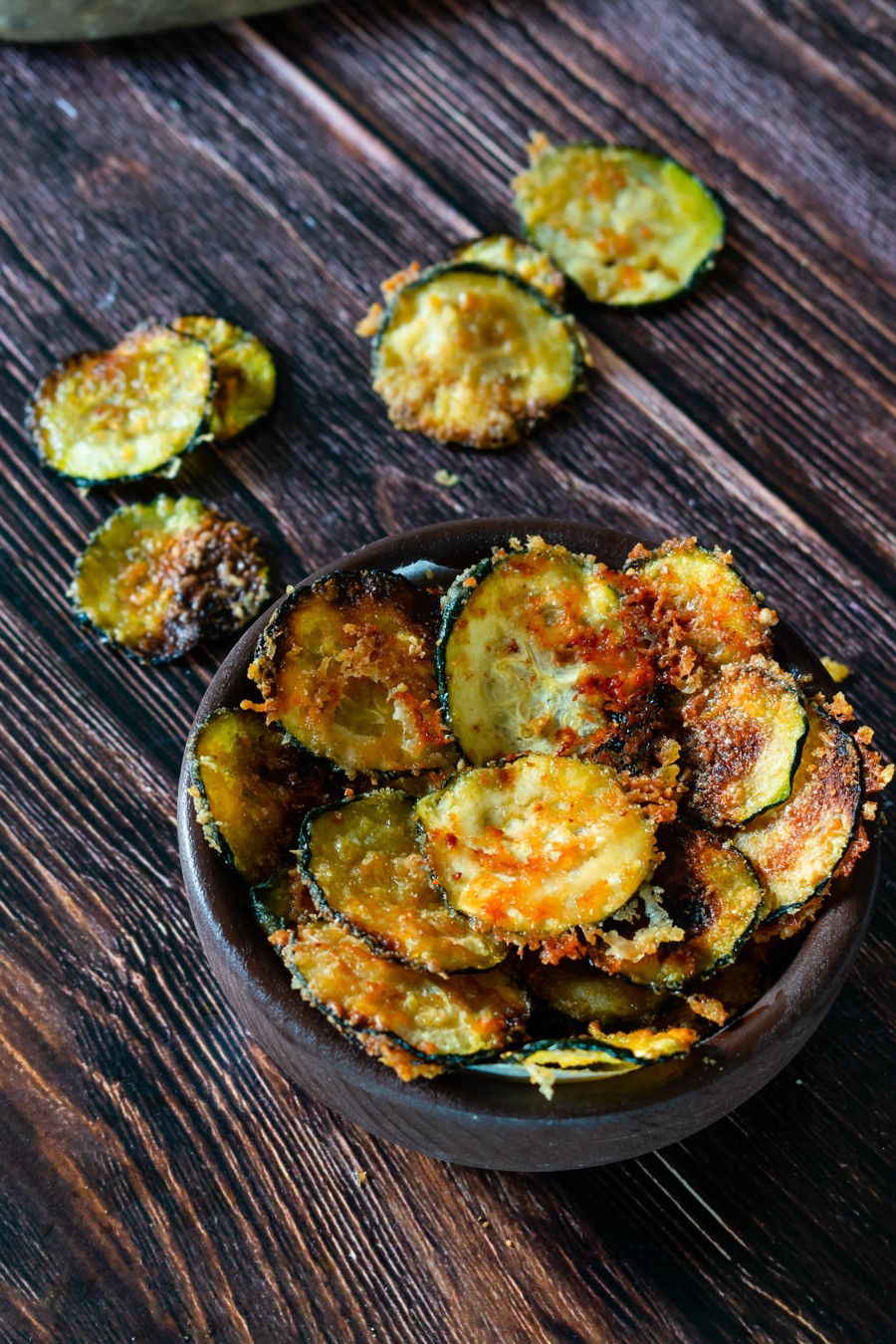 The zucchini slices are slow-cooked in a low-temperature oven, letting them dry out and then crisp to perfection. Once out of the oven, I usually eat about half the tray immediately. The warm chips are pretty irresistible! However, you can let them cool and then pack them into an airtight container to store for about a week. Now you have a fantastic snack to bring to work, enjoy on the couch while watching your favorite show or to just pop in your mouth any time you need a quick salty bite. Let us know how much you love these zucchini chips- we'll be over here finishing our big bowl of chips now!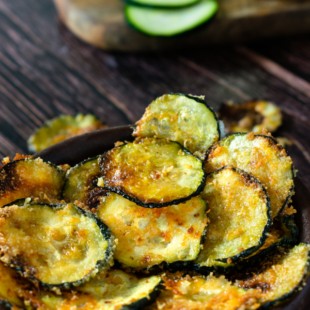 Keto Zucchini Chips
Macros per serving:
• 178 Calories
• 16g of Fat
• 5g of Protein
• 3g of Net Carbs
Keto Zucchini Chips

Macros per serving:
• 178 Calories
• 16g of Fat
• 5g of Protein
• 3g of Net Carbs
Preheat your oven to 250 degrees F and use 1 Tbsp of the olive oil to grease two rimmed sheet trays.

Use a mandolin slicer to slice the zucchini into rounds, cutting them as thin as possible.

Place the zucchini on a paper towel in a single layer and let sit for about 10 minutes to remove any excess moisture.

Place the zucchini in a large bowl and add the remaining olive oil, salt and cheese. Toss everything together well.

Spread the zucchini on the two prepared sheet trays, making the slices in a single layer (a little overlap is okay but you do not want to pile them high on top of each other.

Place the trays in the preheated oven and cook for one hour. Check the chips and if they are browned, remove them from the oven. If they still appear wet, cook for another 20 minutes and check again.

Use a spatula to remove the chips from the sheet tray then enjoy while warm!
Tasteaholics, Inc. is a participant in the Amazon Services LLC Associates Program, an affiliate advertising program designed to provide a means for sites to earn advertising fees by advertising and linking to Amazon.com.
NUTRITIONAL DISCLAIMER
The content on this website should not be taken as medical advice and you should ALWAYS consult with your doctor before starting any diet or exercise program. We provide nutritional data for our recipes as a courtesy to our readers. We use Total Keto Diet app software to calculate the nutrition and we remove fiber and sugar alcohols, like erythritol, from the total carbohydrate count to get to the net carb count, as they do not affect your blood glucose levels. You should independently calculate nutritional information on your own and not rely on our data. The website or content herein is not intended to cure, prevent, diagnose or treat any disease. This website shall not be liable for adverse reactions or any other outcome resulting from the use of recipes or recommendations on the Website or actions you take as a result. Any action you take is strictly at your own risk.
Latest posts by Amanda Bochain
(see all)
Have You Tried These Delicious Recipes?