Low Carb Snacks To Your Home!
Keto Krate is one of the best tools you can have on a low carb diet! They expertly curate and send full-sized, low carb products to your doorstep every month. Each Keto Krate is full of brands, both new and well-known. The products can range from sweet to savory and are always less than 5 grams of net carbs! Best of all, they require their featured products to be maltitol-free (the harshest of the zero-carb sugar alcohols).
Have you been eyeing Keto Krate but haven't given it a chance? Use the code "
KRATEAHOLICS

" at checkout to get 15% off your first box! Try it out and see what you've been missing!

But first, take a look at April's box and its yummy contents!

Keto Krate's service is unique and convenient because it saves tons of time on researching products and separately purchasing each one. The box comes right to your door once a month and has a lot of different low carb foods waiting to be discovered. You're bound to fall in love with something new and delicious with each box.

Just check out our previous Keto Krate unboxings and reviews.

You can enjoy these and many more products every month by signing up to Keto Krate on their website.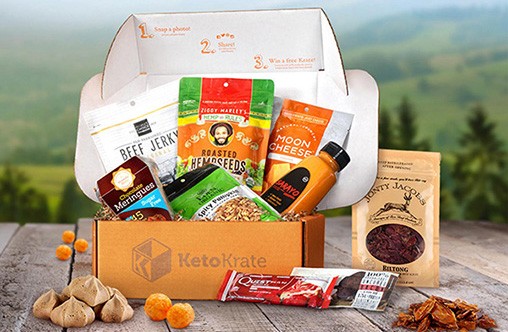 Disclosure: Keto Krate was kind enough to send the products mentioned above in the hope that we would enjoy them and share it with you all on Tasteaholics.com. All opinions are our own and we only recommend products we use personally and believe will be a good fit for our readers. If you visit Keto Krate through our link and subscribe to their service, we earn a small commission while the price stays the same for you. This helps us continue to provide quality recipes and pay for operating costs.
Check Out More Product Reviews:
LOW CARB
WEEKLY
MEAL PLANS
delivered straight to your inbox!
Easy & Delicious Low Carb Recipes
Shopping Lists
All Macros Calculated
Leftovers & Keto Snack Ideas