Subscribe for a FREE copy of our
14-Day Keto Meal Plan
2 Full Weeks of Delicious Recipes!
Leftovers and Bulk Preps Included
Maximize Your Keto Diet's Success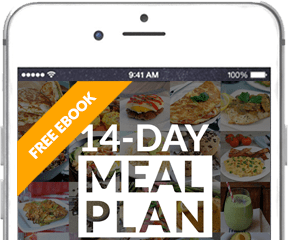 Quick Blender Pancakes for Any Day of the Week!
Every now and then we get a craving for pancakes. Who can resist their light delicate texture paired with butter and syrup? We give in to our cravings pretty frequently since whipping up a batch of low carb pancakes is always fun and rewarding. Though, we have to admit, while our pancake recipe is the best one we've ever tried, it does take a bit long to prepare! It's perfect for Sunday mornings when you've got all the time in the world, but some days, you might want something simpler.
This is the easy pancakes recipe for you!
We adapted this recipe from Melissa at IBreatheImHungry and added some salt (we love salty foods!) and protein powder. We like the texture the protein powder gives these pancakes. It gives them more volume, helps them rise and adds more macronutrients! Isopure makes a great low carb protein powder (their vanilla flavor is 0 carb, actually) but you can use any low carb protein powder. If you've got casein, instead of whey protein, that may actually work better for these quick pancakes as it's much thicker and better for baking.
We try to eat 1 gram of protein per pound of lean body weight and we calculated that using our Keto Calculator – how much protein should you be eating?
And of course, we topped off our easy blender pancakes with a nice chunk of butter and a generous drizzle of Walden Farms Pancake Syrup.
Here's our simple recipe for pancakes!
Combine your cream cheese, eggs, protein, cinnamon and salt into a blender or a Nutribullet. Blend for about 10 seconds and then let it rest.

Set a small pan to heat up over medium heat while the batter is resting.

Pour out about 1/4 of the batter slowly into your hot pan and let it cook undisturbed.

Once you see bubbles on the surface that aren't filled up with surrounding batter, slide a spatula underneath and flip.

Cook the other side of the pancakes for only about 15 seconds.
We provide nutritional information for our recipes as a courtesy to our readers. The data is calculated using the MyFitnessPal app. We remove fiber and sugar alcohols, including erythritol, from the final carbohydrate count since they do not affect blood glucose levels in most individuals. We try to be as accurate as possible but we encourage you to calculate nutritional information on your own.
Loved this recipe? Let us know! Something didn't quite turn out right? Ask us in the comments below or contact us– we respond to comments every day and would love to hear from you and help you out! And check out all our low carb breakfast recipes to learn to make more delicious and healthy meals!
Have you tried these delicious recipes?
Missing anything? Get it on
Disclosure of Material Connection: The products above are linking to Amazon as "affiliate links" because we're affiliates! When you click on a product, it'll take you to its Amazon page where the price stays the same for you and Amazon pays us a small percentage. This helps us continue to provide quality recipes and pay for operating costs.