Do You Have Your Keto Basics?
Ketone Test Strips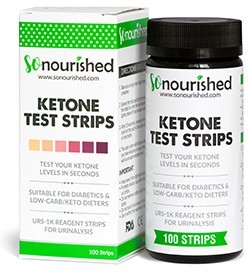 Want to know if you're in ketosis? Use a ketone strip!
Digital Food Scale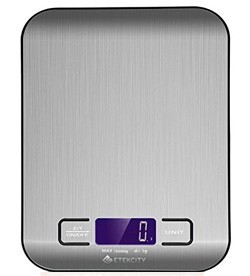 Track what you eat and lose weight faster!
Erythritol Sweetener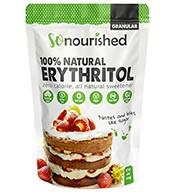 Cooks & bakes just like sugar! All the good without the bad.
Paleo Pi Day!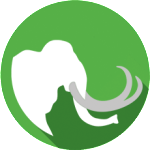 In honor of National Pi Day 2015, we decided to freshen up the all American apple pie recipe with some wholesome, real ingredients. We served up a paleo apple pie to our family and they loved it! The biggest change we made was to the crust- it's completely grain free! Which made the process just a little trickier.
We initially wanted to make a weaved pattern on top of the pie, but because the crust is mostly coconut flour and grass-fed butter (you can also opt to use coconut oil), it had a hard time sticking together. Instead we rolled out more dough and draped it over the entire pie. The result was just as beautiful and the color was amazing! If you end up using a different, more conventional, flour for the dough, giving weaving a try! It creates a beautiful, eye-catching pattern that will amaze your guests! Use a pizza roller to cut your flat dough, or use a ravioli wheel that makes cutting an awesome lattice pattern super easy. We used a lot of tools for this paleo apple pie, all of which can be found at the bottom of the post for easy reference.
Subscribe for a FREE copy of our
14-Day Keto Meal Plan
2 Full Weeks of Delicious Recipes!
Leftovers and Bulk Preps Included
Maximize Your Keto Diet's Success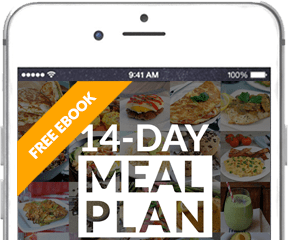 The pie does crumble a bit, so keep that in mind when serving. It gets easier to serve once you can really get your spatula in there and support it out.
Remember to only put the pie filling onto the dough when you're absolutely ready to put everything into the oven. Otherwise, the apples and honey's moisture will seep into the crust too much and make it soggy.
Let's give paleo apple pie a try!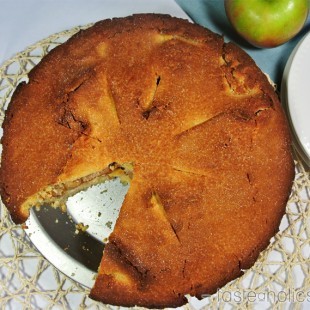 Paleo Apple Pie
Using all paleo ingredients, you can safely enjoy this American classic!

Macros per serving:
• 450 Calories
• 32g of Fat
• 8g of Protein
• 27g of Carbs

Paleo Apple Pie

Using all paleo ingredients, you can safely enjoy this American classic!

Macros per serving:
• 450 Calories
• 32g of Fat
• 8g of Protein
• 27g of Carbs

Preheat your oven to 425°F.

We're going to make 2 pie crusts first. Melt your grass-fed butter (or coconut oil) and combine with your eggs and whisk.

To that mixture, add your coconut flour and salt. At this point, you can use your hands to squeeze and mix the flour.

Divide the dough in half and roll one half into a ball and start pressing and flattening it into a greased 9-inch pie pan.

For the other half of your dough, you'll want to prepare a little work station for yourself to make the process easier. Put down some parchment paper or wax paper onto your counter and tape it down to prevent it from moving. Using a rolling pin, flatten the dough ball out to about a 1/4 inch thickness. It may help to rub some flour onto the rolling pin to prevent the dough from sticking to it.

At this point, you can choose to cut it into strips or leave it as a whole sheet of dough. We'll come back to this top later. Onto the filling!

Peel, core and slice your apples into your preferred size pieces. You can keep them extra chunky, cut them up a bit into small cubes or slice them thinly for a more packed pie. We decided to cut into small chunks. We used our apple slicer which cores and slices at the same time!

In a bowl, toss your apple bits with cinnamon, vanilla extract and honey. You can also add nutmeg, cloves, or any flavors you want here. Make sure all the apples are covered in your sweet mixture.

Pour (or nicely arrange) the apples onto the crust lined pan. Place a few cubes of butter (if using butter) on top to help moisten and brown the filling.

Cover the pie with your rolled out dough. If you're weaving it, watch this tutorial first for a basic lattice weave. Or place the entire flattened piece on top of your filling and seal up the edges by pinching them. If you're using the coconut flour crust, prepare for it to be crumbly. We highly suggest slipping a thin, flexible cutting board under the dough and transferring it by carefully nudges the entire piece to slip onto the top of the pie. The struggles of gluten-free pie making... Slice a few slits on the top dough to let the pie let some steam out in the oven.

Separate an egg and whisk the white a bit. Then using a kitchen brush, brush some onto the entire top crust. This will let your crust develop a beautiful golden brown color while baking. Optional: sprinkle some granulated coconut sugar on top to give it some sparkle.

Put the pie in the oven at 425°F for 15 minutes. Then lower the temperature to 350°F and continue baking for about 40 minutes. You'll know your pie is done when you insert a knife into one of the slits and you meet no resistance. The apples inside should be very soft.

Once your pie is done, let it cool until just slightly warm. Serve it with a scoop of paleo ice cream and whipped cream!
We provide nutritional information for our recipes as a courtesy to our readers. The data is calculated using the MyFitnessPal app. We remove fiber and sugar alcohols, including erythritol, from the final carbohydrate count since they do not affect blood glucose levels in most individuals. We try to be as accurate as possible but we encourage you to calculate nutritional information on your own.
Loved this recipe? Let us know! Something didn't quite turn out right? Ask us in the comments below or contact us– we respond to comments every day and would love to hear from you and help you out! And check out all our keto recipes to learn to make more delicious and healthy meals!
Have You Tried These Delicious Recipes?
Disclosure of Material Connection: The products above are linking to Amazon as "affiliate links" because we're affiliates! When you click on a product, it'll take you to its Amazon page where the price stays the same for you and Amazon pays us a small percentage. This helps us continue to provide quality recipes and pay for operating costs.