Welcome to our October 2017 Traffic & Income Analysis of Tasteaholics.com! This is a monthly record of our blogging and marketing experiences for us to review and learn from. It's a way to keep track of what we've tested, learned, and how we're faring in the world of blogging. We hope it can help you as much as it helps us!
Now, let's get to the good stuff:
Income Total: $93,651.38
Traffic Overview

October vs. September (respectively)

Traffic by Top 10 Sources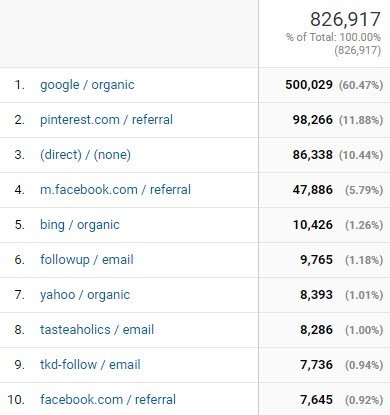 Top 10 Visited Pages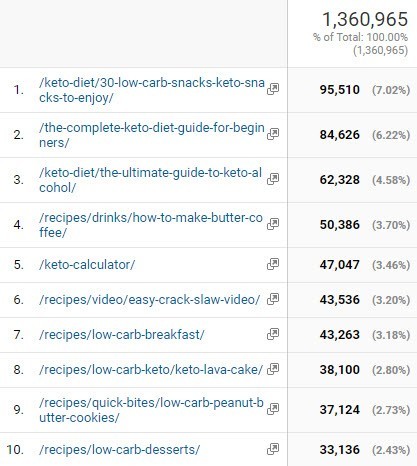 Updates and Changes
Increase in Sales
Our huge boost in sales this month is due to our affiliate program. Our affiliates are amazing, to say the least, and make up a huge part of our trylowcarb.com revenue (about 50%). We owe a big part of our success to our affiliates (and we hope vice-versa).
Weekly Keto Meal Plans!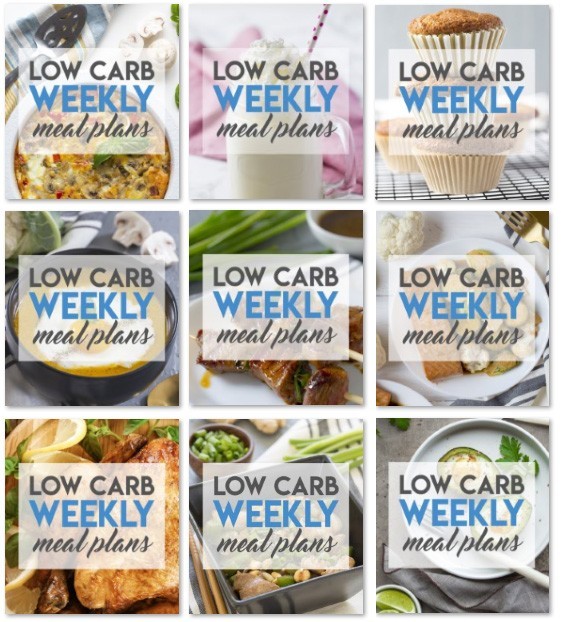 We decided in early October to start up a service that a lot of our customers have been asking about for a long time. Our friend, Leanne Vogel at HealthfulPursuit.com, has a similar service, however, her plans are all dairy-free – something a majority of the keto world doesn't really look for. We decided this would be our next move as a new product/service for our readers.
We're offering our meal plans at a very affordable price point, compared to most weekly meal plan services we've seen (keto or not):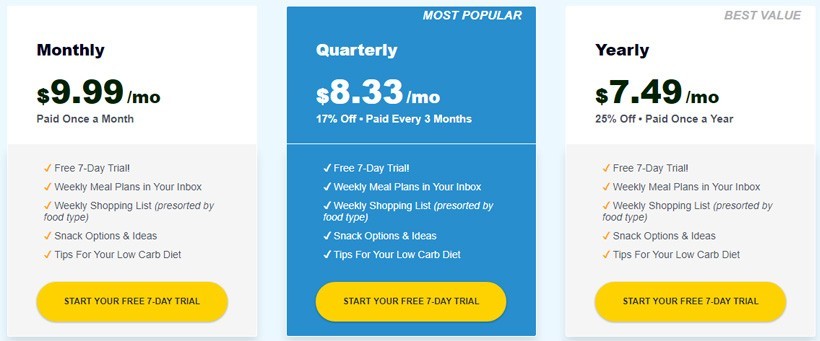 Every customer gets a 7-day free trial to test it out before committing to the plan they select.
For our affiliate partners, each referral earns a 50% commission for every subscription renewal – indefinitely (until the customer cancels).
The launch was not unlike our other product launches with checklists and massive to-dos! We did something called SCRUM to knock out the whole prep from the moment the idea was born down to launch and post-launch – about 3 weeks.
We launched the meal plans in the last 2 days of October, so we haven't any data to report on them just yet!
Tasteaholics Redesigned!
We finally hired a designer to redesign Tasteaholics after about a year of the same old, boring design and we absolutely love it! We went for a more minimal, clean look. This is also in preparation for eventually (and FINALLY) removing ads entirely from the site. We plan on doing this once our income from the meal plans is enough to offset the loss (hopefully just a few months).
Here's what's new:
New font (Muli, sans-serif)
New Headings
New button styles
New sidebar style

Widget Titles
Thin, lighter borders
Updated ebook covers

Redesigned in-post subscribe banner

And a few more items we're still working on 🙂
Speeding Up TryLowCarb.com
We re-hired our speed wizard, Raul (who optimized tasteaholics.com earlier this year) to work on trylowcarb.com as well.
Trylowcarb is trickier because it has WooCommerce installed and it's not an "informational site". What I mean by this is visitors of Tasteaholics don't really need to interact with our server (like adding products to cart or checking out) since they're just there to read articles or recipes.
Anytime users are on a webpage that doesn't have input, the website is completely served from cache, whether your own cache or from content distribution networks (CDNs) like Cloudflare.com. Once the user interacts with it through an action like adding an item to cart, the website server needs to actually process data which takes longer.
Raul did his magic on trylowcarb.com and took the loading time from 4 seconds down to just 1.5 seconds – both on frontend and backend! This is super important for increasing conversion rates since users don't like waiting for pages to load. It also makes working in the backend faster for us as well. (If you would like a referral to work with Raul, just ping me)
TryLowCarb Partner's Program
If you haven't yet checked out our partner's program for TryLowCarb.com, you receive 60% of every sale you refer for our cookbooks and 50% of every subscription and renewal payment for our weekly meal plans!
We provide banners, newsletter content, PDF files and other marketing materials to help increase sales. I can also assist in increasing your passive income through an analysis of your current marketing methods and providing personalized recommendations for your site. 🙂
If you're interested in working with us and promoting the Breakfast in Five, Lunch in Five, Dinner in Five and Dessert in Five ecookbooks and/or our Weekly Keto Weight Loss Meal Plans, check out our Partners Page for more info.
If you have any questions about the program, check out the FAQ or contact us. We would love to work with you!
NUTRITIONAL DISCLAIMER
The content on this website should not be taken as medical advice and you should ALWAYS consult with your doctor before starting any diet or exercise program. We provide nutritional data for our recipes as a courtesy to our readers. We use Total Keto Diet app software to calculate the nutrition and we remove fiber and sugar alcohols, like erythritol, from the total carbohydrate count to get to the net carb count, as they do not affect your blood glucose levels. You should independently calculate nutritional information on your own and not rely on our data. The website or content herein is not intended to cure, prevent, diagnose or treat any disease. This website shall not be liable for adverse reactions or any other outcome resulting from the use of recipes or recommendations on the Website or actions you take as a result. Any action you take is strictly at your own risk.
Latest posts by Rami Abrams
(see all)
Check Out Our Other Income Reports!