Welcome to our November 2017 Traffic & Income Analysis of Tasteaholics.com! This is a monthly record of our blogging and marketing experiences for us to review and learn from. It's a way to keep track of what we've tested, learned, and how we're faring in the world of blogging. We hope it can help you as much as it helps us!
Now, let's get to the good stuff:
Income Total: $89,452.35
Traffic Overview

November vs. October (respectively)

Traffic by Top 10 Sources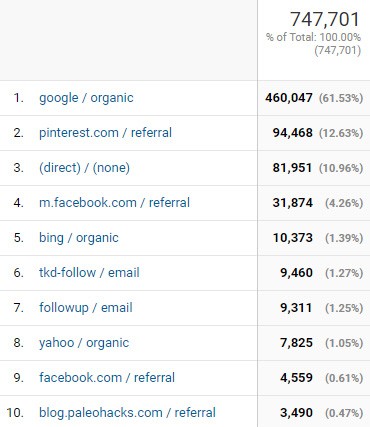 Top 10 Visited Pages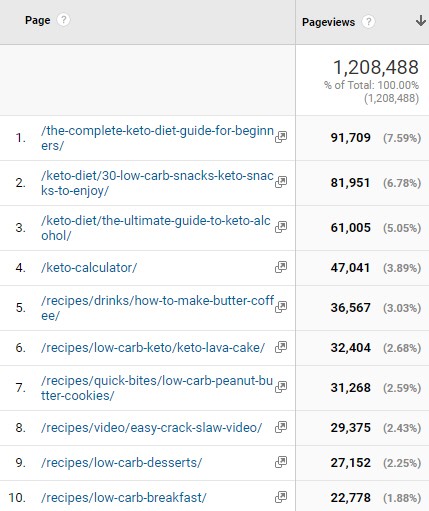 Updates and Changes
Freshdesk
As our sales have grown for both the Keto in Five series and our new meal plan subscriptions, so have our customer support requests. We've been receiving over 20 emails per day – and this is after adding our knowledge base (which reduced our emails by about 70%)!
It was time to use a helpdesk system. I personally had some experience with helpdesks from my startup days, so I decided to go with
It's given us a tremendous amount of time back to focus on other aspects of our sites and businesses. If you spend more than 15 minutes a day answering emails, you may want to look into a similar solution!
Redesigned Keto Calculator!
This has been on my mind for around a year now and I finally got around to doing it!
Our old keto calculator was riddled with design and responsive issues and was just not as user-friendly as I'd wanted. I hired a graphic UI designer who usually works on phone apps to help with the redesign. This was a critical step because we were going for clean, modern and as simple as possible (but not leave out any information). We also wanted it to not really change much for mobile compared to desktop. She did a phenomenal job – see for yourself!
We also added in selectable body fat percentage images to help users who don't know their estimated body fat percentage (who really does? lol).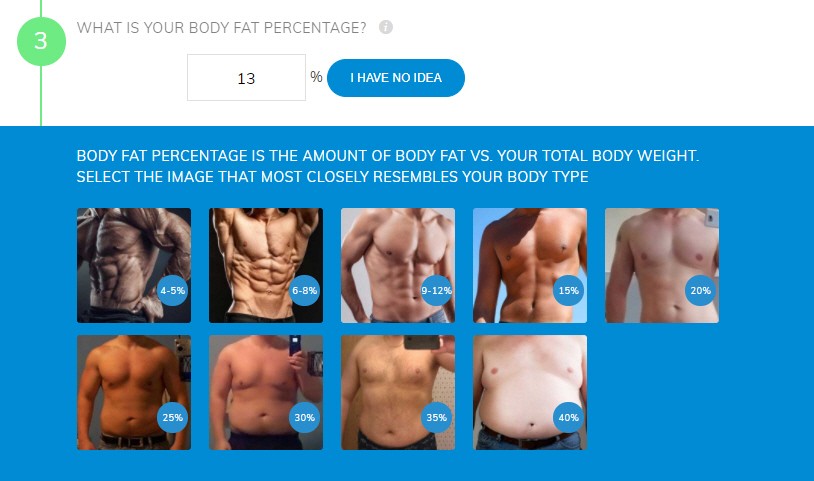 After the design was completed, we hired a skilled angular JS developer who could take our existing calculator code and rebuild the calculator with the new design.
An important part of this new calculator and the way it was coded is that it recognizes the size of the div it's in using javascript. This is great because whichever site you put our calculator plugin on, it will work out of the box regardless of the responsive breakpoints of the site itself. All that's needed is a shortcode on the page or post you want it to be displayed on.
If you're interested in using our keto calculator on your website, we're happy to share our custom built plugin with you! The only condition is that you keep a "powered by Tasteaholics" footer link under the calculator. 😉
Videos, videos, videos.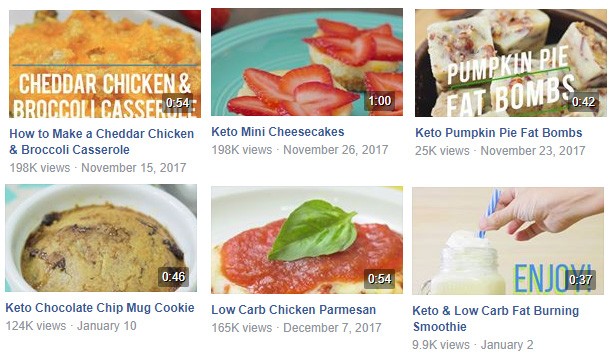 We hired a video creator to make our recipes into videos! Right now, she is working on our most popular recipes. We figure that they're the most popular for a reason and have a higher chance of going viral on Facebook than shooting in the dark with new recipes.
She's made about 10 videos to-date and we have close to 1 million views between them collectively.
We plan to increase our video production to at least 10 videos per month and really getting into the video-sphere. Additionally, we'll be featuring our So Nourished brand in videos which use erythritol or spiralizers for quick and easy branding!
TryLowCarb Partner's Program
A huge part of our sales comes from our affiliate program. Our affiliates are amazing, to say the least, and make up a huge part of our trylowcarb.com revenue (about 50%). We owe a big part of our success to our affiliates (and we hope vice-versa).
If you haven't yet checked out our partner's program for TryLowCarb.com, you receive 60% of every sale you refer for our cookbooks and 50% of every subscription and renewal payment for our weekly meal plans!
We provide banners, newsletter content, PDF files and other marketing materials to help increase sales. I can also assist in increasing your passive income through an analysis of your current marketing methods and providing personalized recommendations for your site. 🙂
If you're interested in working with us and promoting the Breakfast in Five, Lunch in Five, Dinner in Five and Dessert in Five ecookbooks and/or our Weekly Keto Weight Loss Meal Plans, check out our Partners Page for more info.
If you have any questions about the program, check out the FAQ or contact us. We would love to work with you!
NUTRITIONAL DISCLAIMER
The content on this website should not be taken as medical advice and you should ALWAYS consult with your doctor before starting any diet or exercise program. We provide nutritional data for our recipes as a courtesy to our readers. We use Total Keto Diet app software to calculate the nutrition and we remove fiber and sugar alcohols, like erythritol, from the total carbohydrate count to get to the net carb count, as they do not affect your blood glucose levels. You should independently calculate nutritional information on your own and not rely on our data. The website or content herein is not intended to cure, prevent, diagnose or treat any disease. This website shall not be liable for adverse reactions or any other outcome resulting from the use of recipes or recommendations on the Website or actions you take as a result. Any action you take is strictly at your own risk.
Latest posts by Rami Abrams
(see all)
Check Out Our Other Income Reports!