Welcome to our November 2016 Traffic & Income Analysis of Tasteaholics.com! This is a monthly record of our blogging and marketing experiences for us to review and learn from. It's a way to keep track of what we tested, learned, and how we're faring in the world of blogging. We hope it can help you as much as it helps us!
Now, let's get to the good stuff:
Income Total: $5166.68
Traffic Overview

November vs. October (respectively)

Traffic by Top 10 Sources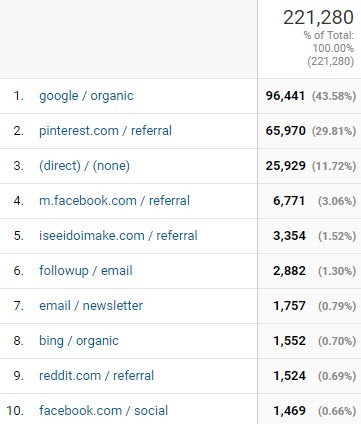 Updates and Changes
Quality Content over Quantity of Content
One of our goals before the New Year was to really prepare the site for new ketoers through 'power articles.' Power articles, as we named them, are posts that are usually in-depth guides that are likely to be shared and go viral. They're a fundamental part of any popular website or blog. They bring users to the site initially and help build long-term bonds with the readers.
For anyone starting keto, it's crucial to know what keto is, how it works, the benefits and some basic tips for how to get started. Last month, we released 2 free ebooks to help newcomers get started. One book was the 14-Day Meal Plan and the other – a Complete Keto Diet Guide. After a quick analysis of our old article about keto basics (we wrote it right when we started Tasteaholics), we quickly realized that it just wasn't cutting it anymore; not for ourselves or our readers. Everyone's standards and knowledge have gone way up since then!
The decision to convert the Complete Keto Diet Guide ebook into an article on the site came naturally.
The ebook provides all the necessary info and has a total of 2700 words (compared to an initial 800 words) and was nowhere near as detailed or cited. Not to mention it didn't look so good stylistically!
In addition, the keto diet guide segues naturally into the 14-Day Meal Plan; giving us an opportunity to increase subscription rates directly from this new page.
After completing the new keto diet page, it really took off on Pinterest that very month and generated more traffic than any other page!

This confirmed our hypothesis about quality, in-depth content being king. It taught us that putting more effort into content, even at the expense of new posts/recipes, is worth it. It paid off in multiple ways – including increased traffic, subscribers (this page alone generates over 200 subscribers per day) and income.
Growing Ourselves and the Site Creatively
We've been working on our article/recipe post foundation for nearly two years and it's become solid enough to keep our traffic and income at a point where we're able to sustain ourselves. This has been our goal since starting Tasteaholics. It gives us more time to freely do what we want with the blog.
What I mean is, in the beginning, we had to fill up the blog with basics – from articles to tons of starter recipes. Now, we're finally able to slow down and really give certain things the time they deserve since we're not in a "rush" anymore.
Just as with the keto diet guide page improvements, we want to do the same to other cornerstone guides and new posts going forward.
For example, we've been taking cooking classes in many of the countries we've been visiting and documenting our experiences. We've learned how to use new spices, flavors and tools to make delicious new dishes from various parts of the world. We've learned so many new ways to add flavor to our day-to-day cooking and we're itching to pass on to our readers.
Additionally, although we've enjoyed making videos in the "Tasty" style (you know, the overhead, sped up, viral-sharing craziness Facebook has been experiencing), we don't feel very creative making them and it simply feels cheap as it's just for maximizing views. Nonetheless, it was a great way to learn the basics of video shooting and editing.
We're now focusing on improving our videos and making them more cinematic. A big influence for us has been Peaceful Cuisine and his amazing YouTube videos. They're unique and are a pleasure to watch.
We believe in finding your own flavor and style in anything you do, especially things that require a more creative flair. At the end of the day, that's what will make you feel fulfilled and happy. Eventually, you'll be more successful because you put your soul into it.
Our "In Five" Affiliate Program
We have a partner's program for TryLowCarb.com in which 60% of every sale is yours!
If you're interested in working with us and promoting our Breakfast in Five, Lunch in Five and Dinner in Five ecookbooks (and other future cookbooks in the works now!), check out our Partners Page for more info.
If you have any questions about the program, check out the FAQ or contact us. We would love to work with you!
NUTRITIONAL DISCLAIMER
The content on this website should not be taken as medical advice and you should ALWAYS consult with your doctor before starting any diet or exercise program. We provide nutritional data for our recipes as a courtesy to our readers. We use Total Keto Diet app software to calculate the nutrition and we remove fiber and sugar alcohols, like erythritol, from the total carbohydrate count to get to the net carb count, as they do not affect your blood glucose levels. You should independently calculate nutritional information on your own and not rely on our data. The website or content herein is not intended to cure, prevent, diagnose or treat any disease. This website shall not be liable for adverse reactions or any other outcome resulting from the use of recipes or recommendations on the Website or actions you take as a result. Any action you take is strictly at your own risk.
Latest posts by Rami Abrams
(see all)
Check Out Our Other Income Reports!