Welcome to our May 2017 Traffic & Income Analysis of Tasteaholics.com! This is a monthly record of our blogging and marketing experiences for us to review and learn from. It's a way to keep track of what we've tested, learned, and how we're faring in the world of blogging. We hope it can help you as much as it helps us!
Now, let's get to the good stuff:
Income Total: $26,825.18
Traffic Overview

May vs. April (respectively)

Traffic by Top 10 Sources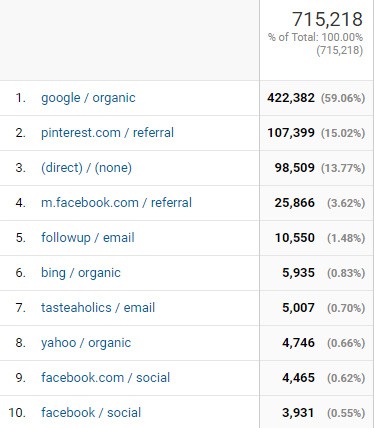 Updates and Changes
Ad Network Test
In May, we decided to give another ad network a try to see how our ad revenue would be affected. We haven't changed ad networks for about a year since we switched over to AdThrive, and me being an experimenter at heart, had to be sure we were with the right company. Our traffic has drastically changed since a year ago, so it was a good time to test.
The network we joined is called Freestar. They're fairly new but have been aggressively hiring data scientists and developers to improve their network ad quality and grow earnings.
Our May income was not bad from their network, however, based on AdThrive's data for May, we would have earned more with them. Additionally, AdThrive fully manages ad placements through their plugin. With Freestar, we had to manually place all ads throughout the site and add conditional code into our header.php file to indicate which ads were running on which pages (a bit of a headache). Another benefit of AdThrive is they have 30 second refreshes on their ads (after an ad is shown to a user for 30 seconds, it auto refreshes to a new ad earning you more revenue), while Freestar has 60-second ad refreshing.
We continued to test Freestar through June but decided to switch back over to AdThrive toward the end of the month. It was an interesting test and well worth it. Now, we definitively know that AdThrive is the best ad network and partner for us as we continue to grow.
Facebook Ads
We didn't get a chance to build out a full Facebook ad campaign as we planned to do in May, unfortunately. However, we did build a remarketing campaign (visitors to Trylowcarb and Tasteaholics see Keto in Five ads). The Facebook ad system is a bit… crappy. Campaigns don't perform like they say they will in their "campaign performance previews" and Facebook has an ugly history of delivering fake clicks and likes.
We've had over 2000 visitors to TryLowCarb from the ads with only 2 sales so far. Normally, our conversion rate is certainly nowhere near 0.01%, especially for a remarketing campaign. Facebook ads are tricky and dangerous because they try to set your CPC or Conversion costs to some astronomical amounts if you leave it set to automatic and don't manually set everything. Case in point: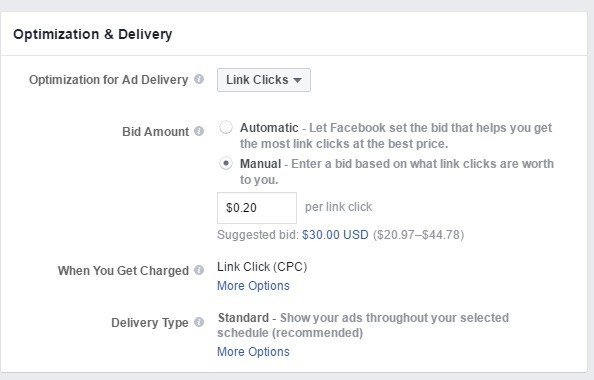 We're still playing with the numbers and running tests. I set the max CPC to $0.07 for remarketing to visitors of Tasteaholics and $0.15 for visitors of TryLowCarb. I get a strong feeling Facebook doesn't remarket as much to our visitors as it just markets to click farms in India (strong bullshit alert). I've had problems with them in my previous experience in my startup days and have been avidly avoiding them for this exact reason. But, we must test to know for sure!
App Progress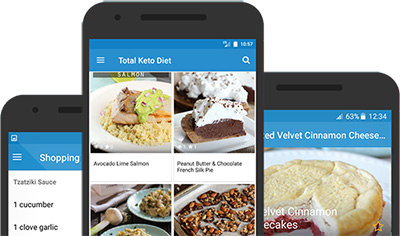 The app has been steadily growing in rankings in the Play store:
Rankings May 13th


Rankings June 23rd


As of this writing (June 23rd), we just hit over 50,000 downloads and a few keywords moved up a spot or two today (we've seen boosts in rankings every time we hit a milestone download amount). The 50k badge should come in over the next few days which may help downloads as well so we're looking forward to that!
We were initially looking for an iOS developer to port the app to iOS, but we decided to try to hire a React Native developer instead. What is React Native? To put it in their words:
With React Native, you don't build a "mobile web app", an "HTML5 app", or a "hybrid app". You build a real mobile app that's indistinguishable from an app built using Objective-C or Java. React Native uses the same fundamental UI building blocks as regular iOS and Android apps. You just put those building blocks together using JavaScript and React.
If we have a React Native developer, we won't need to keep updating each app separately. For future development of the app, this will make everything 100x easier and more efficient.
Dessert in Five
We finally got started on our 4th installment of Keto in Five – Dessert in Five! It will also consist of 30 recipes, 5 ingredients and under 5 grams of net carbohydrates per serving.
We're about halfway done now and it sure isn't easy! This book is giving us the biggest challenge out of the series, but the great news is, it's dessert! People LOVE dessert so we're expecting it to do well (hopefully better than the rest). The great news for our affiliate partners is this will increase commissions again since the full bundle will cost more. Our goal is to launch it by the end of July.
Keto in Five in Paperback!
We've had tons of requests for the paperback versions for our Keto in Five series and in May we finally decided to make it happen.
We hired a designer (through UpWork) for this project. She's doing it in Adobe InDesign and it's looking AMAZING!
In preparation for this project, we spruced the content up a bit to introduce the keto diet more by grabbing our keto diet page content. We also re-edited our originals of all the recipe photos to be 300 DPI and to be 8.5″x11″.
Each recipe will be split into two full pages – one for the image and the other for the recipe instructions. Once we complete Dessert in Five, we'll make a Keto in Five paperback deluxe edition with all 120 recipes.
The paperback will be published through CreateSpace or Amazon's KDP system and will be sold alongside our Kindle versions.
So Nourished, Inc.
In May, we started a new company!

So Nourished is our entry into the real world with physical low carb products. We're starting out selling a few familiar products including erythritol and ketone strips on Amazon to get it started and a flow of income going (with products we know that sell). Within the next few months, we're looking add much more to our lineup, including existing items and new/original ones.
Our dream is to be able to start funding new research about fat and the low carb diet, increase awareness of the low carb diet and grow the selection of low carb-friendly foods in the world. We feel that So Nourished is the fastest way to that goal and we're excited to get it started!
TryLowCarb Partner's Program
If you haven't yet checked out our partner's program for TryLowCarb.com, you receive 60% of every sale you refer!
We provide banners, newsletter content, PDF files and other marketing materials to help increase sales. I can also assist in increasing your passive income through an analysis of your current marketing methods and providing personalized recommendations for your site. 🙂
If you're interested in working with us and promoting our Breakfast in Five, Lunch in Five and Dinner in Five ecookbooks (and other future cookbooks in the works now!), check out our Partners Page for more info.
If you have any questions about the program, check out the FAQ or contact us. We would love to work with you!
Conclusion
Apps, ads, paperbacks and physical products are all ways of expanding our company and reach in the world. Have you given thought to expand or have you already begun? What do you want to do/are already doing? Let me know in the comments below!
NUTRITIONAL DISCLAIMER
The content on this website should not be taken as medical advice and you should ALWAYS consult with your doctor before starting any diet or exercise program. We provide nutritional data for our recipes as a courtesy to our readers. We use Total Keto Diet app software to calculate the nutrition and we remove fiber and sugar alcohols, like erythritol, from the total carbohydrate count to get to the net carb count, as they do not affect your blood glucose levels. You should independently calculate nutritional information on your own and not rely on our data. The website or content herein is not intended to cure, prevent, diagnose or treat any disease. This website shall not be liable for adverse reactions or any other outcome resulting from the use of recipes or recommendations on the Website or actions you take as a result. Any action you take is strictly at your own risk.
Latest posts by Rami Abrams
(see all)
Check Out Our Other Income Reports!