Welcome to our March 2017 Traffic & Income Analysis of Tasteaholics.com! This is a monthly record of our blogging and marketing experiences for us to review and learn from. It's a way to keep track of what we've tested, learned, and how we're faring in the world of blogging. We hope it can help you as much as it helps us!
Now, let's get to the good stuff:
Income Total: $23,757.67
Traffic Overview

March vs. February (respectively)

Traffic by Top 10 Sources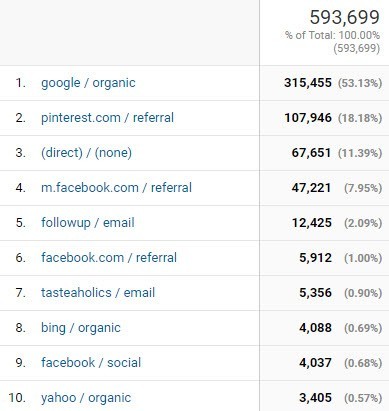 ---
Updates and Changes
Optimizing TryLowCarb Checkout and Cart pages
One of our affiliate partners recommended we make some small but possibly powerful changes to our TryLowCarb checkout process. It's really all in the presentation of the information.
Until these changes, we were always displaying the info as:
$9.99 for a book and an additional 10% off if purchasing all 3 at the same time. So the total would come out to $26.97 from an original price of $29.97.
That's the way woocommmerce displayed it in checkout originally.
After making the changes, we now show that it's $14.99 $9.99, with an instant discount of -$5 (33%) per book. With the additional discount for adding all 3 cookbooks, it takes off another $3, bringing it to a 40% discount from the original price ($14.99*3 = $44.97).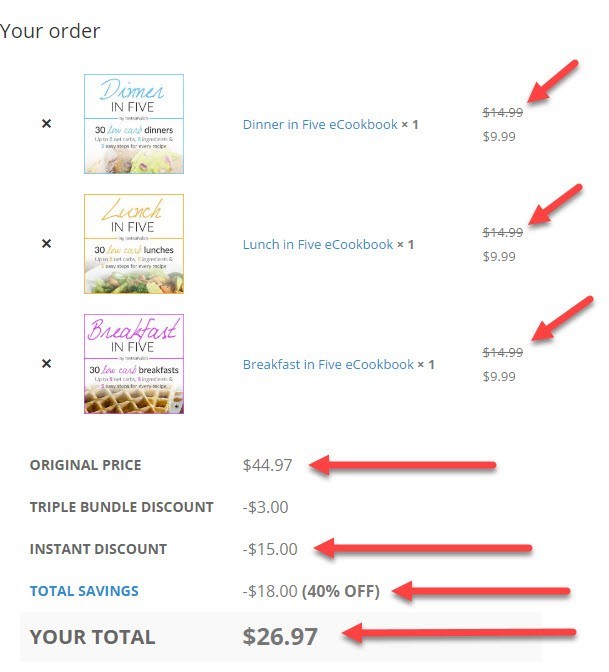 This gives us the ability to advertise it as "40% off the full bundle."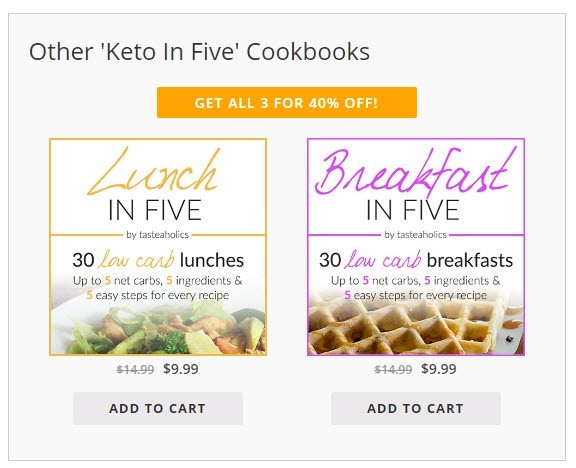 Since making the change, our triple cookbook up-sell rate has increased from 75% to approximately 90% meaning 9 out of 10 sales are for all 3 books. The conversion rate didn't change, so overall, it's bringing a higher income total.
Changing Up Our Sidebar
Our sidebar has been the same for quite a while; an "About Us" image at the top, followed by a "Follow us on FB and Pinterest", "Subscribe", "Our Cookbooks" banners, a few ads and a bunch of other goodies.
We decided to completely remove the "About Us" section. Since it did not actually include any info, it wasn't serving a direct value of introducing us. If someone wants to read about us, they can see the About The Author area at the bottom of any post and also by visiting our About Us page through the menu.
We also moved the cookbooks to the top and reduced the size of the "Follow us on FB and Pinterest" boxes. They don't drive that many clicks (about 1500 in the last 3 months which I track through event logging with analytics) and this means they drive even fewer actual likes and follows.
Below that goes the "Subscribe" box, a few ads, latest posts, etc. At the very end, I added a general "Keto in Five" banner. I want to test how many clicks and conversions that drives. It's far away from the top banners and is only visible once a user scrolls pretty far down so it's not too repetitive.
A New Subscribe Banner
One thing that was bothering me for months was the subscribe banner which shows up right underneath the featured image and sharing buttons on every post. It wasn't pretty, a bit outdated and had some very poor CSS for mobile (things would overlap and it would be impossible to read on certain device sizes). Don't ask me why I didn't fix it a long time ago, I'm ashamed of it as it is!

Additionally, when we tested a new subscribe popup which offered both a 14-Day Keto Meal Plan AND Complete Keto Guide ebook bundle, the popup converted worse than the one offering just the Meal Plan + a few bullet points describing what's inside.
The subscribe banner was offering both and based on the data from the popup, would likely mean it's been performing much worse than it could have been if we'd changed it to only offer the Meal Plan + a few descriptive bullet points.
After a little bit of design love and some serious CSS fixes with smart @media screens, our new subscribe banner was born!

Isn't that better?
And on a small screen, it's almost the same, just more compact: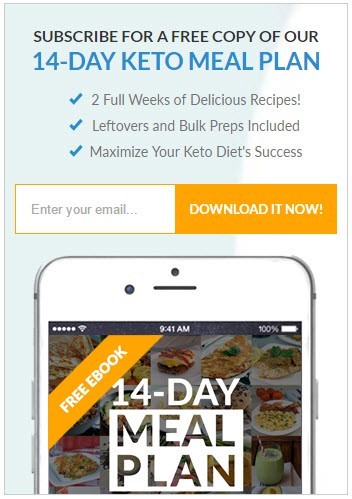 Our conversion rate went up from 0.3% to 0.5% (a lift of 66%), almost doubling our daily subscribers for the banner!
AdWords Campaign Expansion
Aside from our remarketing to visitors of Trylowcarb, we haven't had an AdWords campaign run since mid last year. Back then, I built a small campaign to test on selling Dinner in Five (called 30 Low Carb Dinners at the time) and it simply wasn't profitable. Our landing page wasn't as well built out (no FAQ, the design was less enticing – due to no mouseover recipe previews) and back then the most we could earn was $9.99 for a single sale meaning the most we could spend was up that amount for a conversion.
Now that we've added Breakfast and Lunch, improved our conversion rate and our average sale is around $24, I decided to give AdWords another try. So far, it's looking decent. We've had about 6 sales in two weeks. We've spent $80 and earned $144. Although it isn't much in the big scheme, it is additional income that we wouldn't have had without the campaign. We're targeting keywords like:
+keto +cookbook
+keto +ecookbook
+ketogenic +cookbook
+ketogenic +ecookbook
+ketosis +cookbook
+ketosis +ecookbook
+low +carb +cookbook
+low +carb +ecookbook
+low +carbohydrate +cookbook
+low +carbohydrate +ecookbook
+lchf +cookbook
+lchf +ecookbook
The plusses before each word make it a "broad modified" match type. This basically forces AdWords to only show searches which involve those words (in any order) and not synonyms. Normal broad match (without the +) will give AdWords the ability to show our ads for things that are really unrelated a lot of the time due to synonyms that don't make sense and will burn a ton of money.
As the campaign progresses, I'll be able to add more negative keywords to reduce our spend. Over the next few months, I'll also test additional ads and destinations to try to improve the clickthrough rate and conversions.
Notification/Header Bar
Although we only started this in the last week of March, we're also testing a notification bar, sometimes called a header or hello bar. I set it to show up after a visitor has been on the site for 12 seconds so it doesn't jump out immediately, especially since we already have a subscribe popup.

It takes the visitor to https://www.trylowcarb.com/keto-in-five/ currently. It's not the best converting page (since selling someone on $26.97 is harder than $9.99 with up-sells). That's something I'll test over a few months.
The Shift to Kindle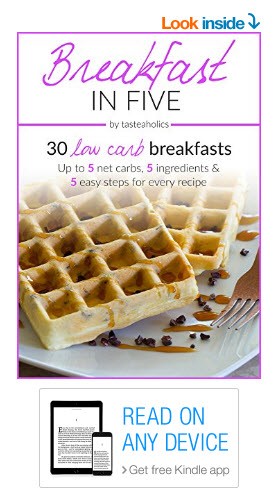 We've been exploring other opportunities of getting more exposure for our Keto in Five and the Amazon marketplace seemed to be the next logical step. During the last week of March, we finished converting our books into Kindle format (.epub/.mobi) and uploaded them to Amazon.
One of the biggest issues is we can't really offer our ebooks for less as that would undercut TryLowCarb and would simply be wrong for existing customers. So we listed them at $9.99 and built some Amazon ads to promote them in the Amazon world.
Amazon takes 30%, which isn't bad at all. That leaves us with about $7.00 per ebook for acquisition costs on the ads which run fairly cheap per click on Amazon (~$0.15).
In the first week, we had about 100 sales of the books total which is much more than we expected. We're continuing to optimize the ads and figuring out the optimal bid as we go along.
Updated and Upgraded Affiliate Creatives
Our affiliate partners have been doing really well over the last few months and we wanted to help make their jobs easier through creatives and content.
Something that really needed an overhaul was the creatives section of our affiliate plugin. We use Affiliate-WP and although it has solid tracking capabilities, it's a bit lacking in the creatives department. Basically, the banners are all in a giant, single file column with no order or re-ordering capability. It's ugly, a mess, and simply not pleasant for our partners (nor ourselves).
Using Unicon theme and Visual Composer, I created a new tabbed section called Banners & Content and hid the original creatives tab. Here's what it looks like now:

Easier to sort through and a ton more useful marketing content!
We added graphics like our post footer banners as well as social media banners for Facebook, Pinterest and Instagram for each book. We also added newsletter content that our partners can use as is or as a foundation which they can edit and improve upon in their own ways. Lastly, we added a downloadable PDF file for inserting into any ebooks they may want to promote the Keto in Five cookbooks with.
TryLowCarb Partner's Program
If you haven't yet checked out our partner's program for TryLowCarb.com, you receive 60% of every sale you refer!
We provide banners, newsletter content, PDF files and other marketing materials to help increase sales. I can also assist in increasing your passive income through an analysis of your current marketing methods and providing personalized recommendations for your site. 🙂
If you're interested in working with us and promoting our Breakfast in Five, Lunch in Five and Dinner in Five ecookbooks (and other future cookbooks in the works now!), check out our Partners Page for more info.
If you have any questions about the program, check out the FAQ or contact us. We would love to work with you!
Conclusion
Our cookbooks are doing well so our focus is now on expanding our reach with them. From adding new banners to joining the Kindle world to updating our Affiliate Partners' promo materials, we're trying to optimize every aspect of our marketing of Keto in Five.
If you're marketing your own products (or ours), have you tried implementing similar banners or marketing methods? What do you see performing best? Let me know in the comments!
NUTRITIONAL DISCLAIMER
The content on this website should not be taken as medical advice and you should ALWAYS consult with your doctor before starting any diet or exercise program. We provide nutritional data for our recipes as a courtesy to our readers. We use Total Keto Diet app software to calculate the nutrition and we remove fiber and sugar alcohols, like erythritol, from the total carbohydrate count to get to the net carb count, as they do not affect your blood glucose levels. You should independently calculate nutritional information on your own and not rely on our data. The website or content herein is not intended to cure, prevent, diagnose or treat any disease. This website shall not be liable for adverse reactions or any other outcome resulting from the use of recipes or recommendations on the Website or actions you take as a result. Any action you take is strictly at your own risk.
Latest posts by Rami Abrams
(see all)
Check Out Our Other Income Reports!