Welcome to our June 2017 Traffic & Income Analysis of Tasteaholics.com! This is a monthly record of our blogging and marketing experiences for us to review and learn from. It's a way to keep track of what we've tested, learned, and how we're faring in the world of blogging. We hope it can help you as much as it helps us!
Now, let's get to the good stuff:
Income Total: $33,040.26
Traffic Overview

June vs. May (respectively)

Traffic by Top 10 Sources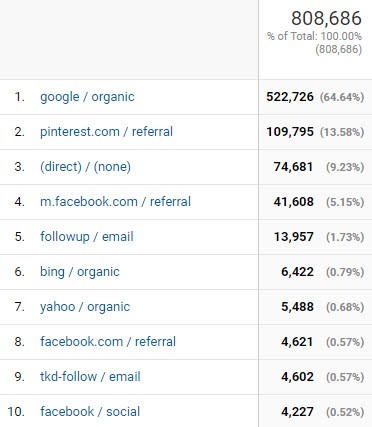 Top 10 Visited Pages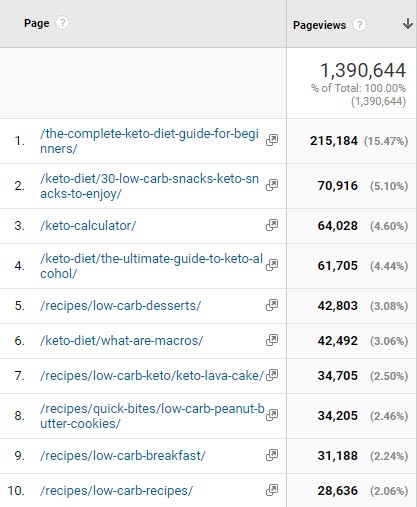 Updates and Changes
Help Center
Lately, the amount of emails and comments we've been receiving for visitors (Tasteaholics) and customers (TryLowCarb) has been increasing dramatically. We found ourselves spending up to an hour a day responding to people's inquiries. So we decided to do something about it.
We looked through a bunch of Help Desk/Knowledge Base type of plugins and landed on MinervaKB. It's a pretty straightforward Knowledge Base plugin with some nice default designs.
We purchased it, installed it on both websites and got to work coming up with some of the most common questions asked and answers to them (we've written these answers probably a hundred times in our replies so that part was easy).
This way, our customers get answers to get their questions instantly and we have far fewer emails compose. Everybody wins! Since then, we've reduced inbound emails by probably about 90%.
What we did for Tasteaholics
Removed the "Contact Us" form from the About Us page and put a giant link for the Help Center:

Created 6 categories of questions:

Low Carb & Keto Diet
Recipes
Cookbooks
Total Keto Diet App
Tools
Personal Advice

Only allowed someone to contact us if they couldn't find the answer to their question
Check out Tasteaholics' Help Center here.
What we did for TryLowCarb
Removed "Contact Us" and "Order Support" pages from the menu and replaced them with "Support > Help Center"
Created 3 categories and added a commonly asked section:

Cookbooks
Apparel & Misc Products
Keto Diet

Added a contact us link to questions where users may still run into issues (based on our experience in the emails we've received).
Check out TryLowCarb's Help Center here.
Recart – Abandoned Cart
We've been using a service called Recart (previously GhostMonitor) to send emails to cart abandoners for TryLowCarb for over half a year and it's great! It's a set and forget system that substantially increases sales.

It's a plugin for WordPress that essentially hooks into the email field during checkout. It makes the email field the first item that the customer fills out and immediately stores the information as soon as the customer is done typing. At this point, if the customer decides to leave, Recart kicks into gear.
After 30 minutes since the abandonment, it sends an email to the customer. If that doesn't work, it sends another email a day and then 3 days later. Each of these emails and send times is completely adjustable, however, this is their recommendation based on their data from all their customers, so I went with it.
For the month of June, we recovered $485 from the emails: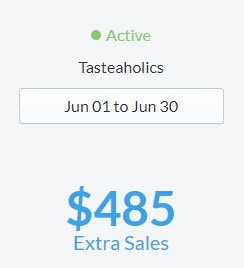 If you sell something and you don't have a cart abandonment recovery solution, give Recart a try. If you do have a solution, give Recart a try anyway because they offer a free trial! They have a ton more features like push notifications, messenger, popups and more.
PR
To increase natural and high-quality backlinks to our site, we decided to hire a PR manager. The goal is to have as many outlets write about Tasteaholics as possible.
Our PR manager has been tackling this challenge from 2 different angles: the keto diet and entrepreneurship. They research and reach out to journalists and bloggers and pitch them a story either about "How the keto diet is revolutionary!" or that we're young entrepreneurs who have a popular diet cookbook series called Keto in Five. Whatever works!
We're also added to databases like Cision where journalists can find our profiles if they need an expert or a quote. For example: if a journalist is writing about dieting and weight loss and wants a quote from an expert, they would look through the Cision database for experts in the field in question.
Since they've started, we've been featured in Home Business Mag and The Quintessential Gentleman, and are working on many other prospects.
TryLowCarb Partner's Program
If you haven't yet checked out our partner's program for TryLowCarb.com, you receive 60% of every sale you refer!
We provide banners, newsletter content, PDF files and other marketing materials to help increase sales. I can also assist in increasing your passive income through an analysis of your current marketing methods and providing personalized recommendations for your site. 🙂
If you're interested in working with us and promoting our Breakfast in Five, Lunch in Five and Dinner in Five ecookbooks (and other future cookbooks in the works now!), check out our Partners Page for more info.
If you have any questions about the program, check out the FAQ or contact us. We would love to work with you!
Conclusion
A big step for us was hiring the PR person to build our domain authority with Google and grow in our search rankings. How are you building backlinks and growing your traffic? Have you tried guest posting or PR? Let me know in the comments!
NUTRITIONAL DISCLAIMER
The content on this website should not be taken as medical advice and you should ALWAYS consult with your doctor before starting any diet or exercise program. We provide nutritional data for our recipes as a courtesy to our readers. We use Total Keto Diet app software to calculate the nutrition and we remove fiber and sugar alcohols, like erythritol, from the total carbohydrate count to get to the net carb count, as they do not affect your blood glucose levels. You should independently calculate nutritional information on your own and not rely on our data. The website or content herein is not intended to cure, prevent, diagnose or treat any disease. This website shall not be liable for adverse reactions or any other outcome resulting from the use of recipes or recommendations on the Website or actions you take as a result. Any action you take is strictly at your own risk.
Latest posts by Rami Abrams
(see all)
Check Out Our Other Income Reports!