Welcome to our July 2017 Traffic & Income Analysis of Tasteaholics.com! This is a monthly record of our blogging and marketing experiences for us to review and learn from. It's a way to keep track of what we've tested, learned, and how we're faring in the world of blogging. We hope it can help you as much as it helps us!
Now, let's get to the good stuff:
Income Total: $30,428.52
Traffic Overview

July vs. June (respectively)

Traffic by Top 10 Sources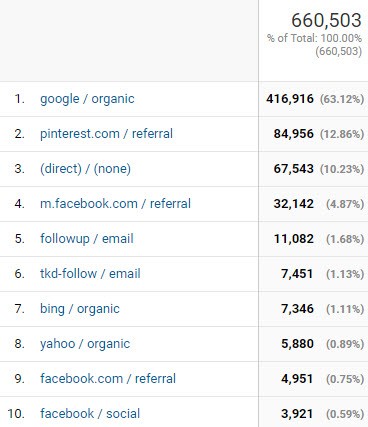 Top 10 Visited Pages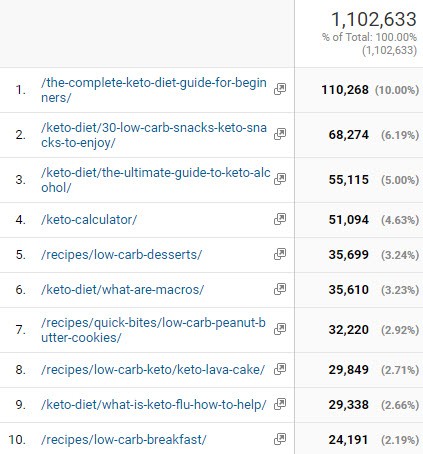 Updates and Changes
Traffic Took a Hit!
Our Google rankings for tons of keywords took a big hit in July. Not fun. No amount of webmasters tools or research was helping identify the problem that was causing this.
I decided to hire a backlink auditor to review our full backlink profile and find out what needed to be taken down and disavowed. If you didn't know, disavow is a handy tool Google introduced a few years ago which lets you upload a file of domain or specific link URLs to tell Google not to count those links toward your rankings. It's a great tool to use if your site landed on spammy/scammy sites which Google may penalize you for.
Over the next month, our auditor looked through thousands of our backlinks links, analyzed them, selected suspicious or downright bad URLs and added them to a disavow file (how we got those links, I don't know). Our traffic started to slowly recover at the end of August. Woohoo!
Improvements to our Affiliate Program
As the affiliate program grows, we're giving it more and more focus. Many people are promoting our Keto in Five books and the program has become an integral part of our business.
We decided to give the partners sign up page more attention. From adding links throughout Tasteaholics.com (in the menu, sidebar and footer) to sprucing up the Partners signup page.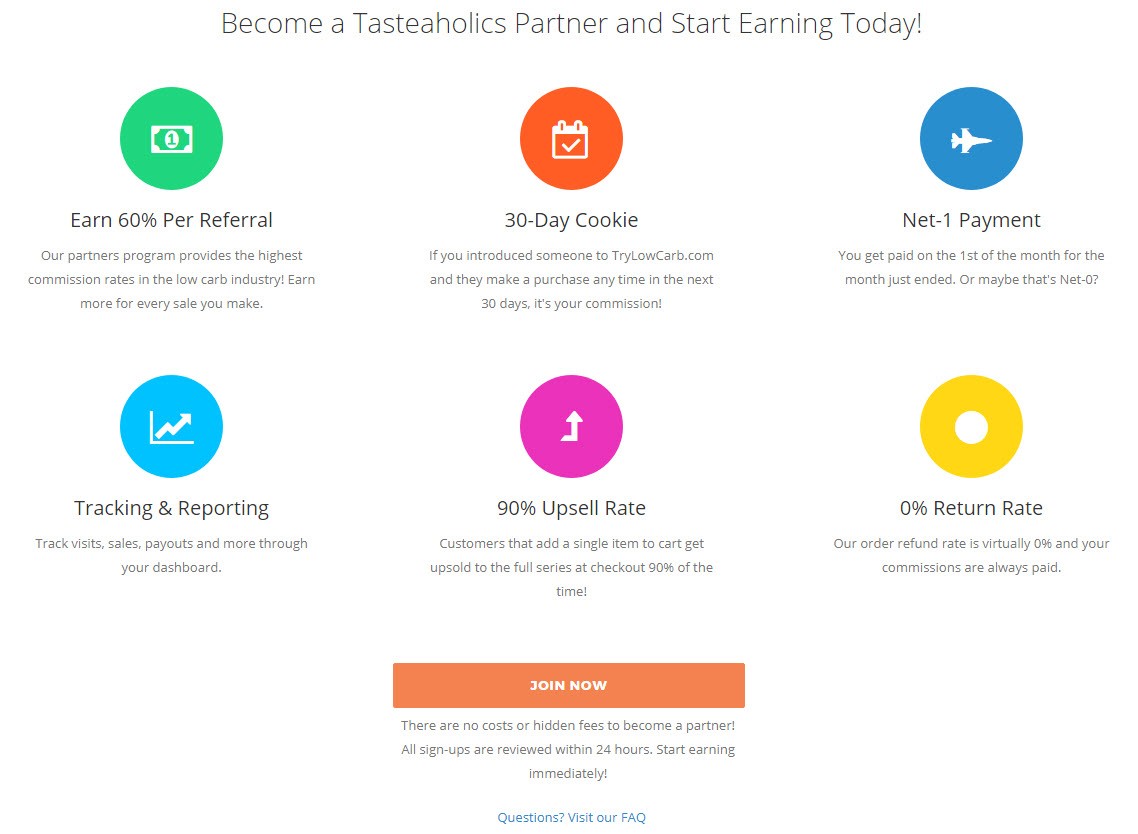 Additionally, we added a great new feature for anyone who wants to share our content from Tasteaholics and still receive attribution. The AffiliateWP plugin has an awesome add-on called External Referral Links which allows affiliates to add the ?welcome=ID to any URL on tasteaholics.com.
This creates a cookie and if the user in the next 15 days (or whatever you set it to) clicks on a trylowcarb.com banner anywhere on Tasteaholics and then checks out, the affiliate will get the commission for the sale. It's a great feature as many of our affiliates already share our stuff throughout social media. By adding their affiliate ID to the shares, they can directly benefit from sharing our content.
Dessert in Five
All the gearing up of our affiliate program has also been in preparation for the launch of Dessert in Five. We're almost done with the book and are super excited to release it. A fourth book means more earnings per sale. A book launch means we get to do a whole announcement and email blast! We haven't launched a book in a while and we've doubled our subscriber count since the last book (mostly due to our Total Keto Diet app). We're at around 220,000 subscribers at this point and ready to test it all out (next month)!
TryLowCarb Partner's Program
If you haven't yet checked out our partner's program for TryLowCarb.com, you receive 60% of every sale you refer!
We provide banners, newsletter content, PDF files and other marketing materials to help increase sales. I can also assist in increasing your passive income through an analysis of your current marketing methods and providing personalized recommendations for your site. 🙂
If you're interested in working with us and promoting our Breakfast in Five, Lunch in Five and Dinner in Five ecookbooks (and other future cookbooks in the works now!), check out our Partners Page for more info.
If you have any questions about the program, check out the FAQ or contact us. We would love to work with you!
NUTRITIONAL DISCLAIMER
The content on this website should not be taken as medical advice and you should ALWAYS consult with your doctor before starting any diet or exercise program. We provide nutritional data for our recipes as a courtesy to our readers. We use Total Keto Diet app software to calculate the nutrition and we remove fiber and sugar alcohols, like erythritol, from the total carbohydrate count to get to the net carb count, as they do not affect your blood glucose levels. You should independently calculate nutritional information on your own and not rely on our data. The website or content herein is not intended to cure, prevent, diagnose or treat any disease. This website shall not be liable for adverse reactions or any other outcome resulting from the use of recipes or recommendations on the Website or actions you take as a result. Any action you take is strictly at your own risk.
Latest posts by Rami Abrams
(see all)
Check Out Our Other Income Reports!