Welcome to our December 2016 Traffic & Income Analysis of Tasteaholics.com! This is a monthly record of our blogging and marketing experiences for us to review and learn from. It's a way to keep track of what we tested, learned, and how we're faring in the world of blogging. We hope it can help you as much as it helps us!
Now, let's get to the good stuff:
Income Total: $6912.13
Traffic Overview

December vs. November (respectively)

Traffic by Top 10 Sources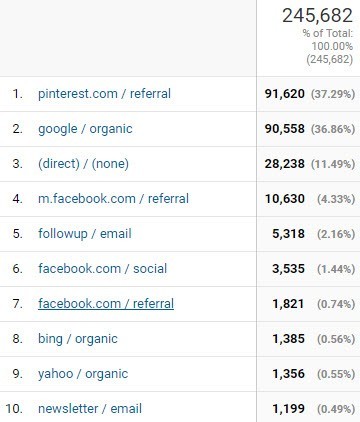 Updates and Changes
Preparing for the January Rush
As we've learned from the previous year, January is a great month for traffic for websites in the dieting/weight loss niche (due to New Year's resolutions). Last year, our traffic went from 50k in December of 2015 to over 120k in January of 2016. It more than doubled!
To be fully prepared, we wanted to have a few things ready including the Complete Beginner's Keto Diet Guide (mentioned in the previous report), our full set of ecookbooks – Breakfast, Lunch and Dinner in Five, and another few articles for the site that we thought would be helpful for beginners.
Lunch in Five and Keto in Five!
We were able to complete Lunch in Five while traveling through Europe and Asia (not a easy feat!) and just in time for the New Year. This was super important as we've wanted to be able to give our readers and customers the full Keto in Five bundle for a long time. We also wanted to provide newcomers plenty of staple recipes for all times of the day to make keto easier in the beginning.
The hardest part of integrating Lunch in Five was figuring out how to sell the whole bundle to visitors of TryLowCarb.com. When we had only two of the books, a visitor would visit the landing page to one of them, add it to cart and then be offered the other book through a popup at checkout.
After racking our brains and testing dozens of plugins for various methods of incorporating multiple items, we landed on a few methods we currently use.
Popups
Basically, if a user visits a landing page for one of the books and adds it to cart, they get taken straight to checkout (skipping cart page), where a popup immediately offers one other book.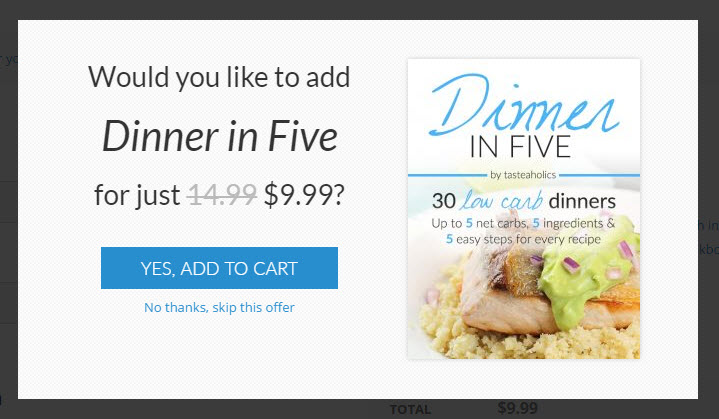 If they accept the offer, another popup offers to add the 3rd book and take 10% off the price for all 3 ($1 off each, totaling $27.97). It might be a bit clunky but it works (our January report will shed some light).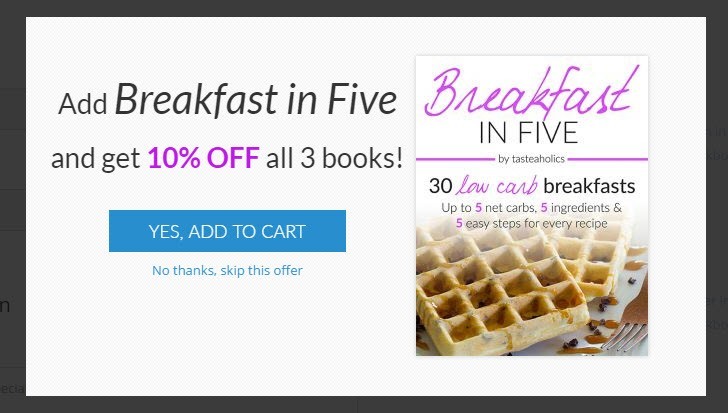 Up-sell Area
Additionally, on the checkout page, there's a section which offers the other books to cart (one click to add). The option is there for the user in case they changed their minds after denying the popup.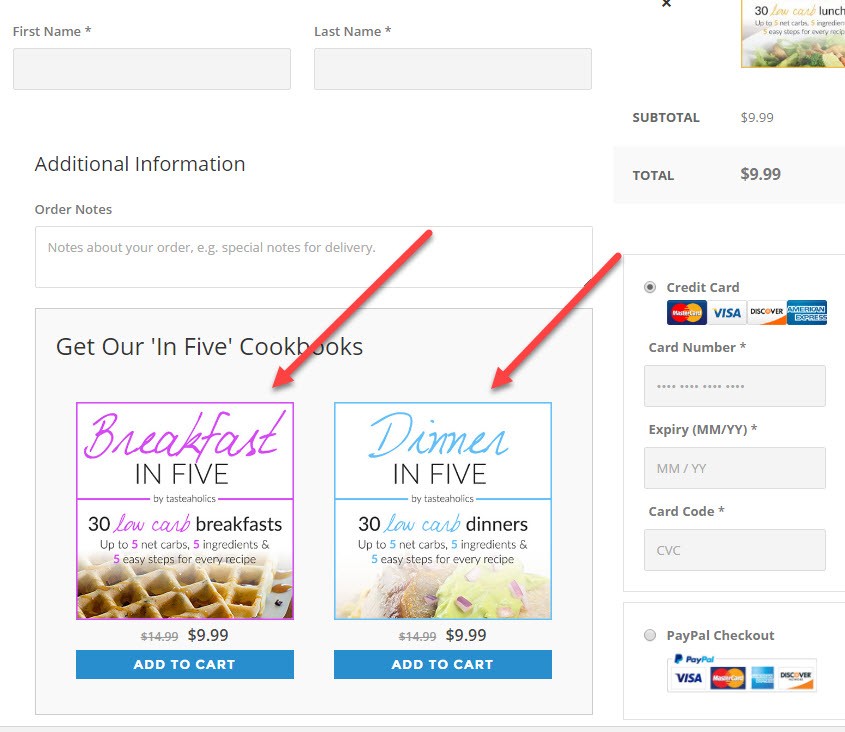 We made these popups and up-sell areas on the checkout page because most users hit a landing page for a singular book and may not even know that any other 'Keto In Five' books exist. This way, they simply can't miss them. Also, passive up-sell areas are commonly overlooked, while a popup forces users to make a choice.
Header Bar/Ribbon
When a visitor is on one of the landings pages for the books, a header bar shows up after 10 seconds offering the visitor to get the bundle for 10% off all 3 books.

Why 10 seconds? It's roughly enough time for the user to scroll down on the landing page to around the first "add to cart" button and understand what they're being offered, so this header actually means something to them.
Keto in Five Bundle Page
Finally, we created a landing page which promotes all 3 cookbooks. We're still testing the conversion rate, although we don't expect it to do as well as the single book pages as upselling from a $9.99 offer is easier to sell than a $29.97 offer.
Results
We released Lunch in Five and the Keto in Five bundle on December 31st, so no data for December but January has been extremely successful in up-sells and overall sales. We're currently seeing about 75% of our customers purchasing the triple bundle so the various methods to up-sell are working! To see the exact figures, you'll need to check out our January Income Report in the next few weeks!
Additionally, our affiliate partners' referral commissions have gone way up due to the addition of Lunch in Five and the promotion of the Keto in Five bundle! If you haven't yet checked out our partner's program for TryLowCarb.com, you should! 60% of every sale is yours!
If you're interested in working with us and promoting our Breakfast in Five, Lunch in Five and Dinner in Five ecookbooks (and other future cookbooks in the works now!), check out our Partners Page for more info.
If you have any questions about the program, check out the FAQ or contact us. We would love to work with you!
NUTRITIONAL DISCLAIMER
The content on this website should not be taken as medical advice and you should ALWAYS consult with your doctor before starting any diet or exercise program. We provide nutritional data for our recipes as a courtesy to our readers. We use Total Keto Diet app software to calculate the nutrition and we remove fiber and sugar alcohols, like erythritol, from the total carbohydrate count to get to the net carb count, as they do not affect your blood glucose levels. You should independently calculate nutritional information on your own and not rely on our data. The website or content herein is not intended to cure, prevent, diagnose or treat any disease. This website shall not be liable for adverse reactions or any other outcome resulting from the use of recipes or recommendations on the Website or actions you take as a result. Any action you take is strictly at your own risk.
Latest posts by Rami Abrams
(see all)
Check Out Our Other Income Reports!