I'd like to share an interesting post with you because today marks exactly 1 year since our very first post on Tasteaholics! To celebrate our anniversary, we want to give you an inside look at how Tasteaholics.com has grown in this short time!
When we started out, we'd been on the keto diet for a few months and were familiar with the basics. We had so much success on the diet and fun creating delicious, carb free meals, we decided to share it with the world. After many hours brainstorming name ideas, we finally landed on Tasteaholics. It was catchy, unique, embodied us, and the domain and social media profiles were up for grabs. It was perfect!
We immediately claimed it and got started installing WordPress and a theme we loved on our hosting account. If you'd like to know more about that process or are considering starting your own blog, read our How to Start a Food Blog guide.
After some brief setup, we wanted to write our first blog post right away. At the time, we had just found an amazing butcher by our home so the recipe for our first post was born: filet mignon with grilled asparagus!
Since that day, we've posted over 150 delicious recipes and 30 different guides & articles! We've also done some cool stuff like built a keto calculator and made a low carb vegetables page for quick carb data lookup.
A New Addition To The Blog
In addition to sharing our data from last year, this post is the start of a monthly Tasteaholics Analytics & Income Report. We're excited to track our progress and share it with you.
Blog2
This is also the beginning to a new section of the site called Blog2 – blogging about our blog – where we're going to share our writing, photography and marketing experiences and knowledge that we've gained through this blog. For those interested, it will be a great opportunity to share ideas, find answers and go through this exciting journey together.
1 year of Tasteaholics.com
Let's dive into the juicy stuff! Here's a quick look at how much we've progressed since our very first post on February 7, 2015: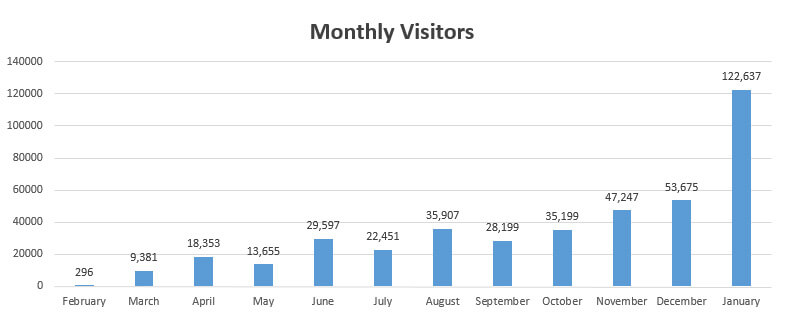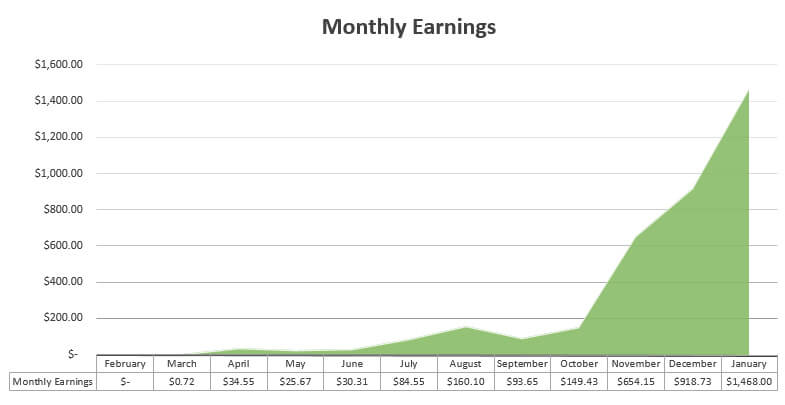 2015
February, March and April
We worked hard on building content through recipes and helpful articles about the low carb diet. Most of our traffic came from Reddit's /r/ketorecipes and Foodgawker. Lots of learning, mistakes and research. The struggle was real!
Note: Foodgawker rejected our first 11 submissions due to various vague reasons so don't let it get you down if they don't take your pictures right away. You'll get the hang of it!
| | | |
| --- | --- | --- |
| February Stats: | March Stats: | April Stats: |
| | | |
May
Lots of reaching out to other low carb blogs – important for building relationships and guest blogging. Guest blogging is very important for SEO (Search Engine Optimization) and direct traffic value. Our blog slowly but surely started showing up naturally in Google search results and we started receiving steady flow of passive traffic (traffic not caused by us sharing on reddit or somewhere else).
May Stats: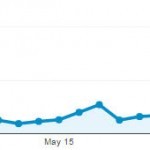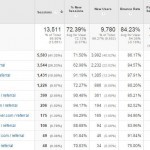 June and July
We picked up the pace in social media posting – joined plenty of Pinterest group boards, discovered Yummly and added it to our sharing widget in post pages. Our White Chocolate Butter Pecan Fat Bombs went viral and got thousands of repins. This opened our eyes to the value of Pinterest for a food blog.
August and September
We started focusing more on building our subscriber list (sorry for the popups!). We also focused on writing more articles (not recipes) to help our raders and widen our content range. Our traffic also grew a lot from our guest posts on alldayidreamaboutfood.com and ruled.me – both BIG blogs!
| | |
| --- | --- |
| August Stats: | September Stats: |
| | |
October and November
We got approved to the BlogHer network at the end of October! This was a milestone because apparently they're super exclusive due to their high payouts. November was super exciting because we really got to see the potential for earning with BlogHer ads. We also joined a few other affiliate networks and started testing various offers. We only work with companies we truly believe in and enjoy their services/products (like Keto Krate).
We started Facebook promotion to various Facebook groups. This is great for a few reasons:
Traffic
More Likes on our facebook page
SEO value (Google likes to see shares on all social media)
You can see this reflected in our Facebook and Google Organic traffic.
| | |
| --- | --- |
| October Stats: | November Stats: |
| | |
December
We got a new camera!
In food photography, the lens is more important and we focused on getting the best one we could find at a fair price. The EF 100mm f/2.8L has amazing quality, image stabilization and is unbeatable for close-ups. It feels like each picture is a masterpiece. If you're thinking about what lens to get, stop thinking and get it! It will blow your mind.
December Stats: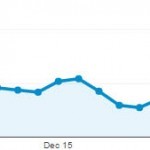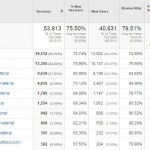 2016
January
It was our first January and although we knew January is the month of resolutions, we didn't know how good it would be for a diet blog! Our traffic more than doubled from December and our earnings grew rapidly as well. We used this as an opportunity to re-optimize many of our pages for Google so that our Organic rankings grew and continued to grow through February. If we're going to feel a dropoff after January, we want to minimize it and then come back even stronger in March!
January Stats: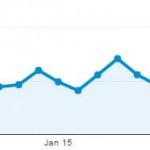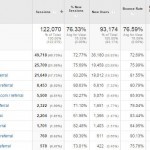 That wraps it up for our very first year of Tasteaholics! I'm excited to continue tracking our monthly stats and sharing what we're trying and learning with you right here in our new Blog2 section.
If you have ideas, questions or comments please make sure to write to us below! We would love to hear from you.
NUTRITIONAL DISCLAIMER
The content on this website should not be taken as medical advice and you should ALWAYS consult with your doctor before starting any diet or exercise program. We provide nutritional data for our recipes as a courtesy to our readers. We use Total Keto Diet app software to calculate the nutrition and we remove fiber and sugar alcohols, like erythritol, from the total carbohydrate count to get to the net carb count, as they do not affect your blood glucose levels. You should independently calculate nutritional information on your own and not rely on our data. The website or content herein is not intended to cure, prevent, diagnose or treat any disease. This website shall not be liable for adverse reactions or any other outcome resulting from the use of recipes or recommendations on the Website or actions you take as a result. Any action you take is strictly at your own risk.
Latest posts by Rami Abrams
(see all)
Check Out Our Other Income Reports!